SUPERSOUL KIRTAN ACADEMY
with RAGHUNATH
SPECIAL GUEST RADHANATH SWAMI
& special guest teachers
India, December 30, 2019 - January 25, 2020
EARLY BIRD PRICING: $3,500 USD*
*Early discount ends May 31. To qualify, full payment must be received before the early discount cutoff date.
Tuition is $3,750 USD if received by December 30.
This is a one-of-a-kind musical and spiritual immersion in the Bhakti yoga kirtan culture. The Supersoul Kirtan Academy is open to all levels--anyone in love with kirtan, mantra meditation, yoga lifestyle and Bhakti yoga!
Announcing the Supersoul Kirtan Academy -- a residential program in India for 3 consecutive weeks.
January 2020 at the Govardhan Ecovillage two hours north of Mumbai, India!
The Supersoul Kirtan Academy was designed for teachers and kirtan enthusiasts alike to upgrade your teaching offering, your personal joy, and your meditation practice.
Study, sing, and practice kirtan ALL DAY with expert teachers!
You will learn how to play the primary kirtan instruments of harmonium and mrdanga drum, become proficient in cartals (hand cymbals), employ singing techniques, as well as how to lead and structure a dynamic kirtan, and as a teacher, how to use it in your classes.
You'll be amazed at how skilled you can become in such a short time and how much fun you will have in the process of learning.
All levels are welcome.
Course Contents

SINGING
Learn valuable techniques in vocal training and control to reach your potential singing in kirtan. This includes breathing practices, vocal care, enunciation, the anatomy of the voice and throat, harmonizing, learning the scale of your voice, and how to make the most of your personal range.

RHYTHM
Learn how to hold and control rhythm and develop your sense of timing to dynamically lead and follow in kirtan. The building blocks of basic, intermediate and advanced beats used in all kirtans. Everything from rhythmic changes, ornamentations, and techniques and practices for sharp and accurate rhythm.

INSTRUMENTS
Learn harmonium, drum, and hand cymbals to lead kirtan in beautifully accompanied ways. You will have the opportunity to learn all three primary, traditional instruments or focus deeply on one. You will learn various scales and melody structures along with take-away practices to entrain your skills.

MANTRAS & BHAJANS
Learn various chants for kirtan and the with many beautiful traditional mantras and songs to inspired your devotional practices and share with others.

LEADING KIRTAN
Learn and practice the art of setting the pace in a kirtan as well as comfortably and confidently lead others in chanting in all environments.
By the end of the course students will be able to:

- Competently and confidently lead and comfortably participate in kirtans in dynamic ways
- Properly sing and play multiple musical instruments using various rhythms and melodies
- Explain the importance of and history of kirtan
- Recite and chant various mantras
- Exhibit the moods and attitudes of kirtan
- Facilitate kirtan programs and engage different crowds appropriately
Your Presenters

RAGHUNATH
Director
Raghunath has been transforming people's life since he was a teenager, when he got into yoga and clean healthy living from a young age. He was the lead singer and songwriter of two internationally-acclaimed bands that toured the world in the punk/hardcore music community. Although the music was abrasive, it was filled with positive uplifting and spiritual lyrics that transformed tens of thousands of fans' lives espousing vegetarianism, karma, positive mental attitude and a drug-free life. Considered a teacher's teacher, Raghunath is a gifted speaker and educator of self-transformation & spirituality. He travels internationally, leads teacher trainings, annual sold-out pilgrimages to India, and has been living the life of a yogi for 28 years. At 22 he went to India and lived in a Krishna Bhakti ashram as a monk. He studied deeply sacred literature, music, cooking and deeper facets of yogic culture. Presently, he's married with 5 children and is co-creating Supersoul Farm, an educational center in Canaan NY, with his wife Brij Cappo.
RADHANATH SWAMI
Spiritual Guide & Dharma Lectures
Radhanath Swami is a Vaishnava sanyassin (a monk in a Krishna-bhakti lineage) and teacher of the devotional path of Bhakti-yoga. He is author of The Journey Home, a memoir of his search for spiritual truth. His teachings draw from the sacred texts of India such as The Bhagavad-gita, Srimad Bhagavatam, and Ramayana, and aim to reveal the practical application of the sacred traditions, while focusing on the shared essence which unites apparently disparate religious or spiritual paths.
MADHURI PURA DAS
Lead Kirtan & Music Teacher
Born and raised in a household of avid Kirtan singers and musicians, Madhu (Mādhurī Pūra Dāsa) is a meditation coach who has dedicated his life to sharing bhakti yoga. Madhu studied traditional Vedic instruments as a child and later studied both Indian and western classical music in depth. His style of music is a blend of modern influences with the ancient art of kirtan, creating a unique sound. Madhu travels internationally and hosts mantra meditation workshops, enlivening and energizing communities with his music. The driving force behind his enthusiasm for what he does is the desire to have kirtan appreciated by all types of people.
Mādhurī Pūra Dāsa offers Kirtan music training lessons for learning how to lead and participate in Kirtan, vocal and instrument training, and the history and philosophy of Kirtan for beginner, intermediate and advanced level. One will learn the mood, mechanics and methodologies of ancient devotional chanting and how to integrate it into one's daily life for divine connection.
JANESWAR DAS
Kirtan & Mrdanga Teacher
Janeswar grew up singing and playing kirtan. He is a master at leading kirtan and a gifted teacher who has been practicing bhakti from a very young age. His music training took place at the Bhaktivedanta Gurukul (traditional vedic education system) under the well known mridanga (drum) teacher Radha Govinda Pal. Later on, Janeshwar traveled to the holy village of Vrindavan where he took the vows of a monk and did selfless service at the famous 24-hour Kirtan Mandali for several years. Today he travels around India playing for Kirtan Festivals. Under his tutelage, students will learn the best and traditional way of drumming (on the mrdanga clay drum) and will leave with the skills needed to accompany kirtans.
ALEXANDRA MOGA
Academy Coordinator
Alexandra's yoga journey began in her childhood, when during summer breaks in Romania she would meditate alongside her aunt who taught her practices in forgiveness, focused breathing, and energetic visualization. In her teens she took her first yoga asana class and was hooked, finding the practice perfectly suited her passion for movement and dedication to spirituality. After four years of university in Paris, she returned to New York where she immersed herself in the yogic path with over 1,000 hours of training and teaching various communities since 2010. She is honored to share and facilitate the experience of Bhakti yoga, a path which she believes offers invaluable remedies for the dis-eases of modern life. She bows to the many teachers who have guided her ever-closer to understanding yoga, the divine, and how to be of service; namely: her mother and aunt, Raghunath, Dhanurdhara Swami, His Holiness Radhanath Swami, and His Divine Grace A. C. Bhaktivedanta Swami Prabhupada.
Daily Schedule
*subject to slight modifications
5:30-6am Dharma, Chanting, Pranayama, Japa
7-8:30am Optional Asana Practice
8:30-9:30am Breakfast
10-1:30am Morning Session(s)
1:30-2:30 Lunch
3-5pm Afternoon Session(s)
6-7:30 Satsang
7:30 Dinner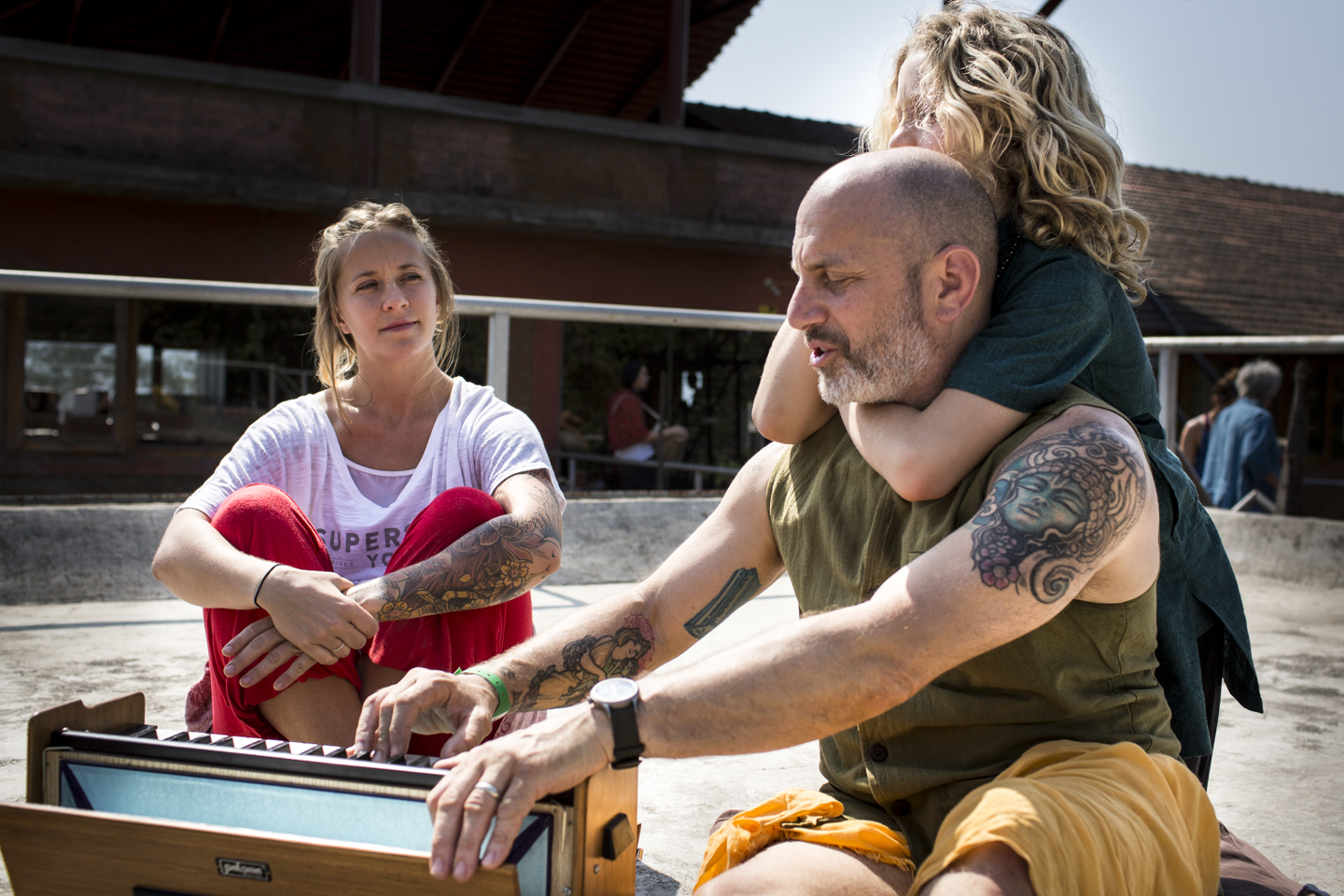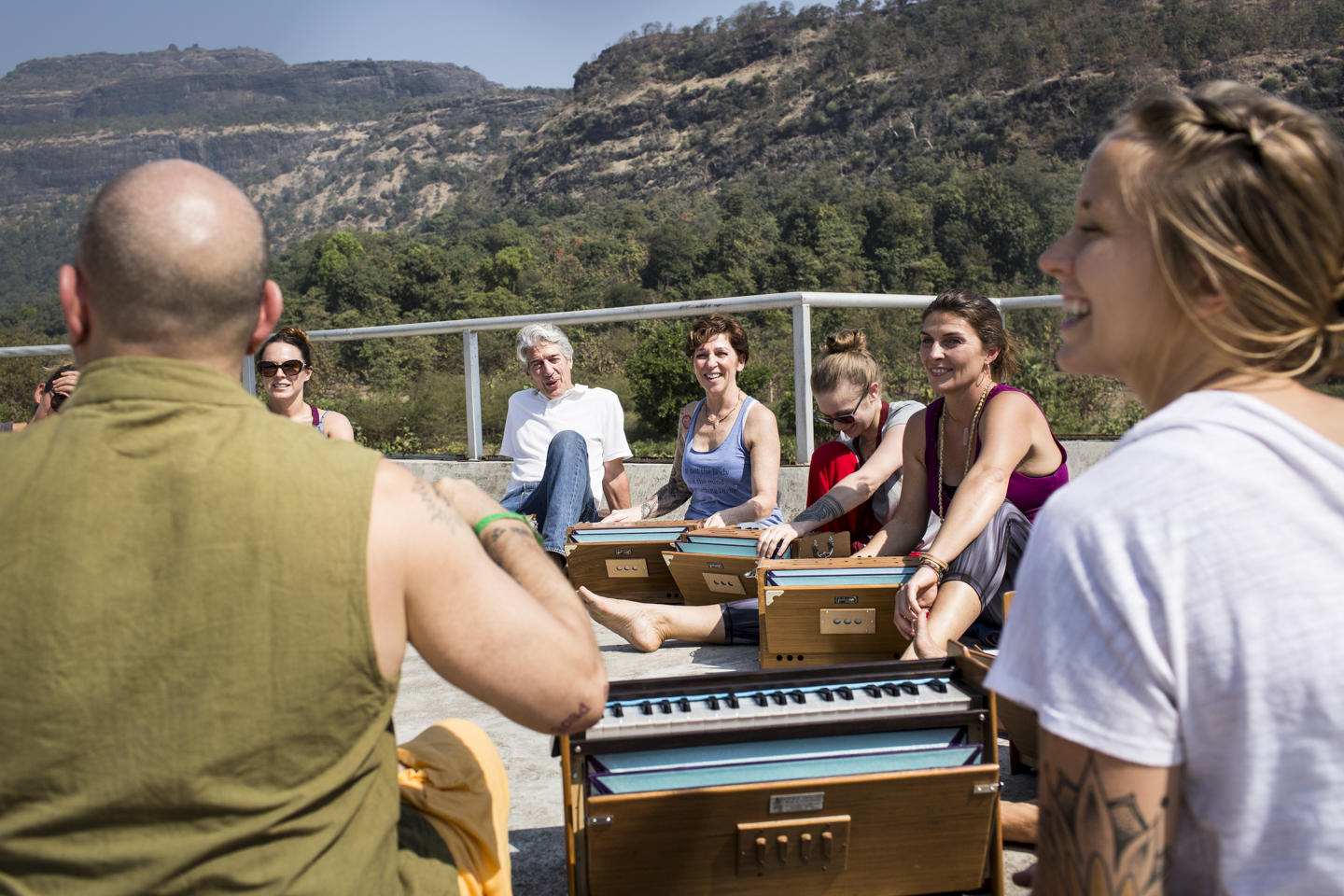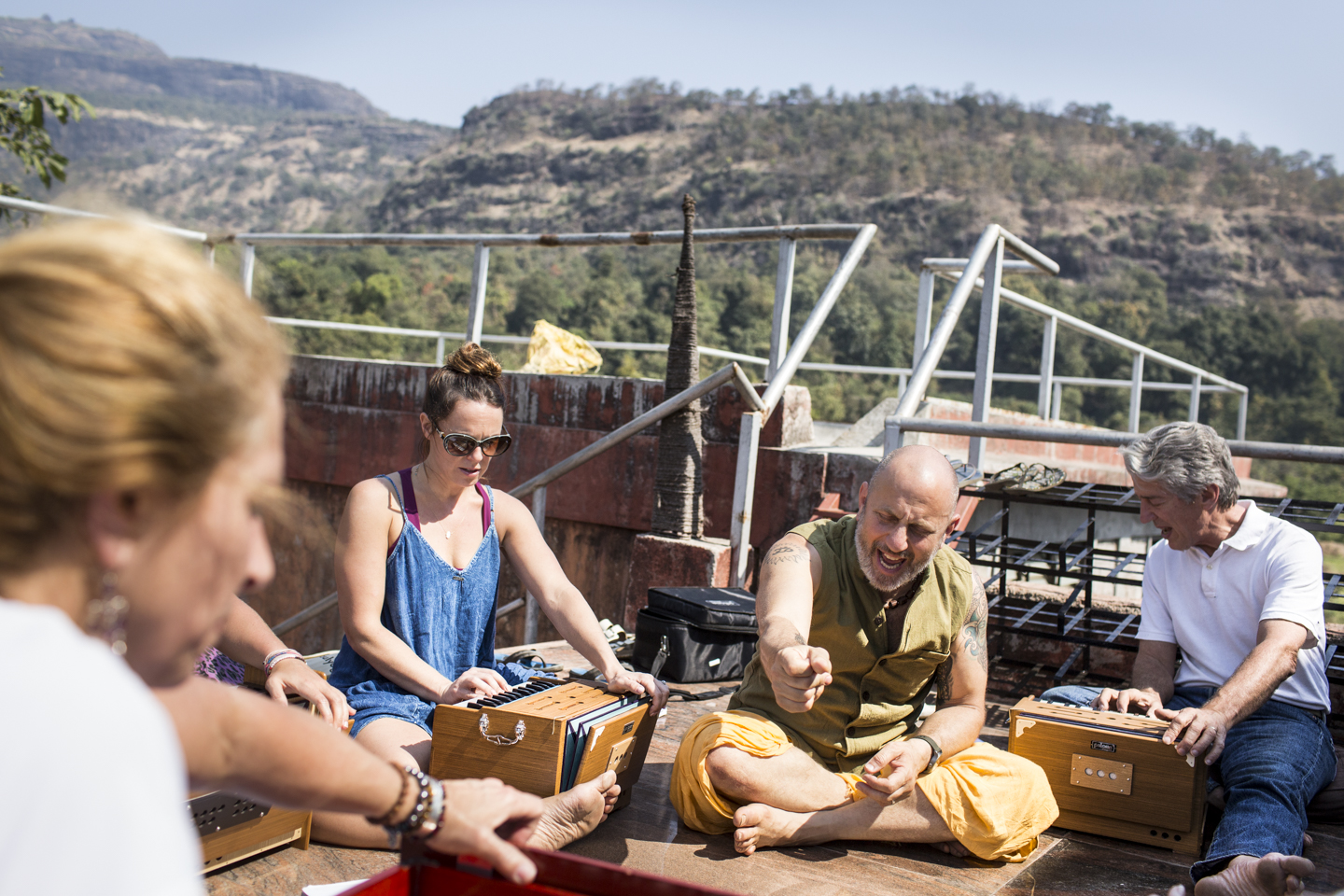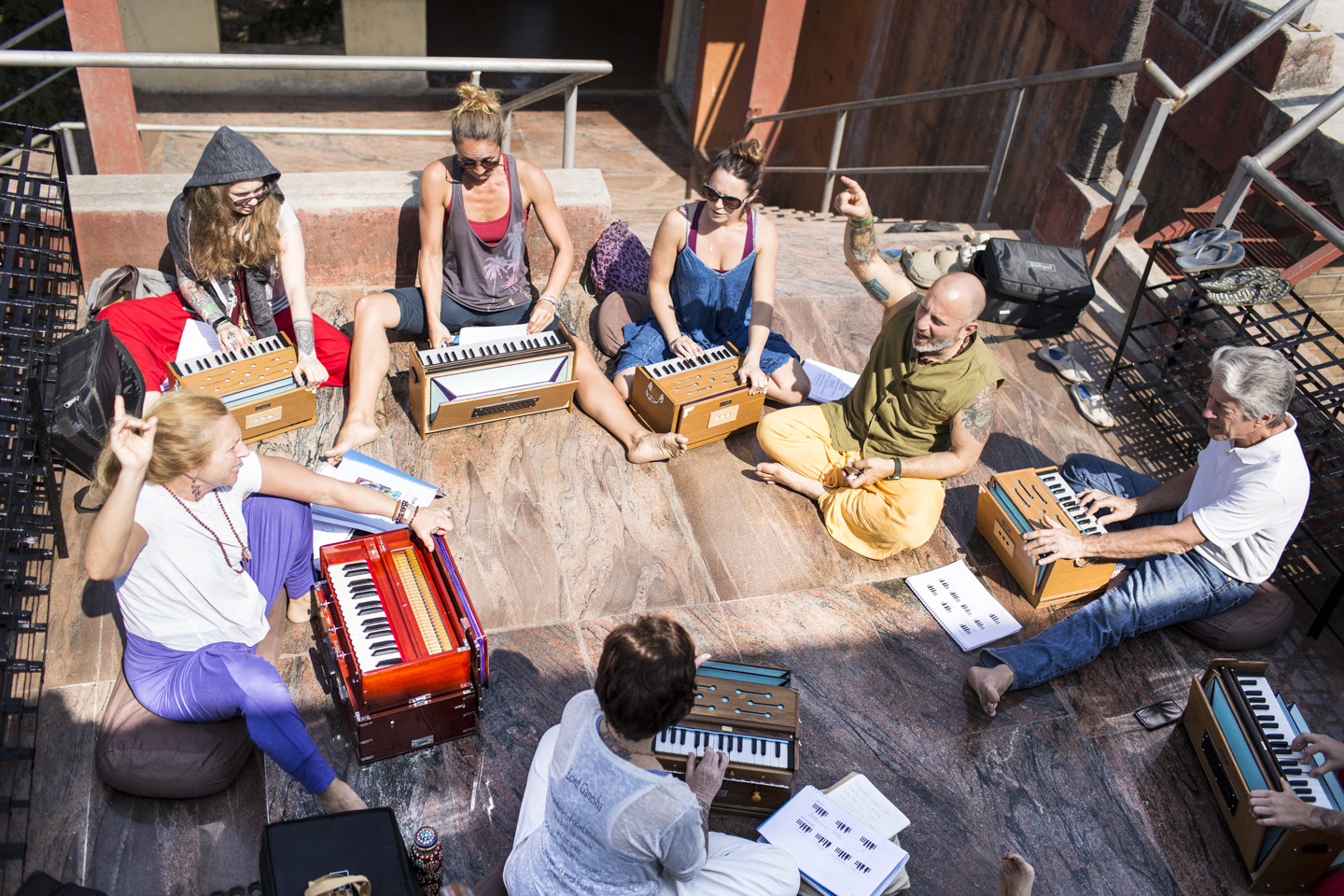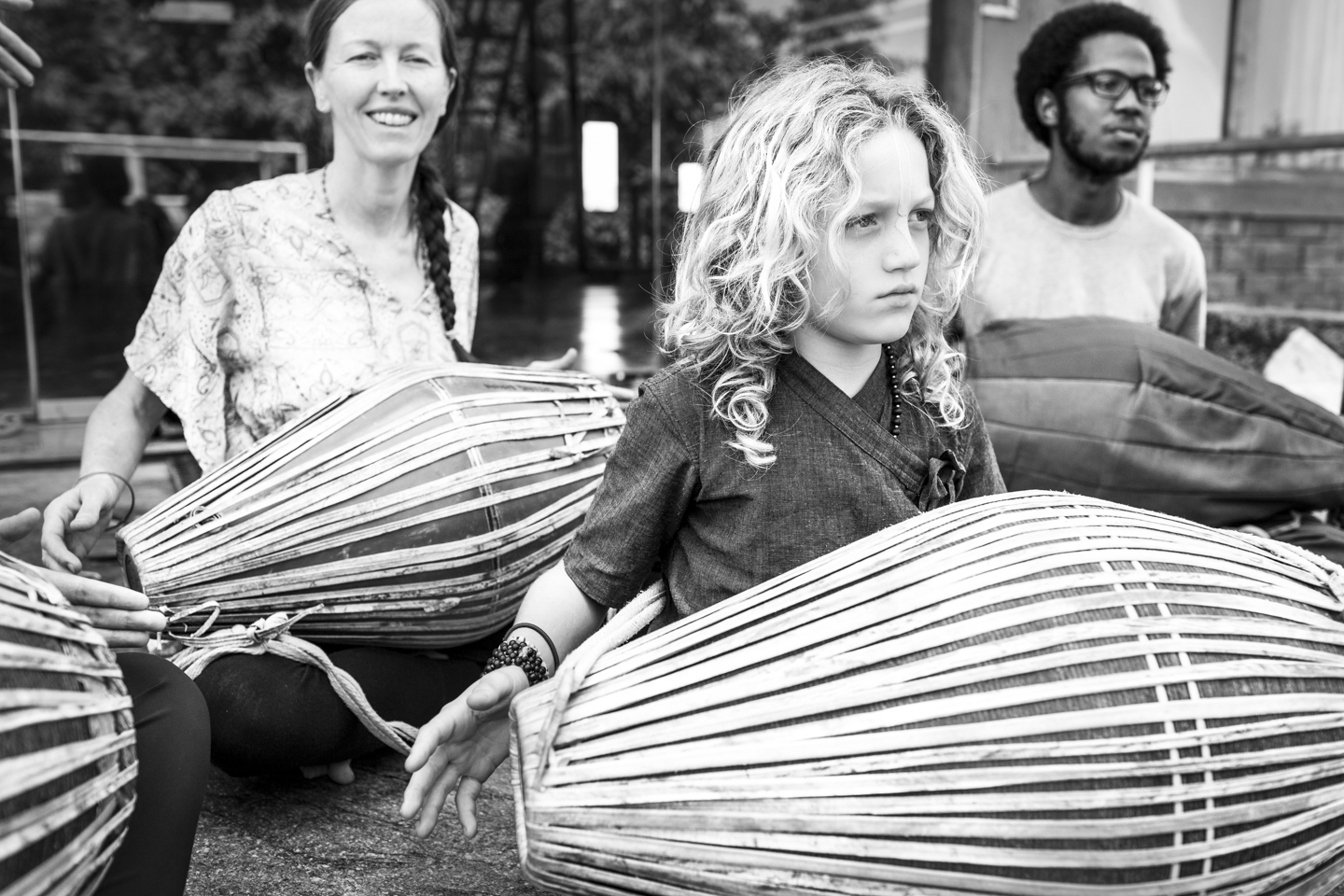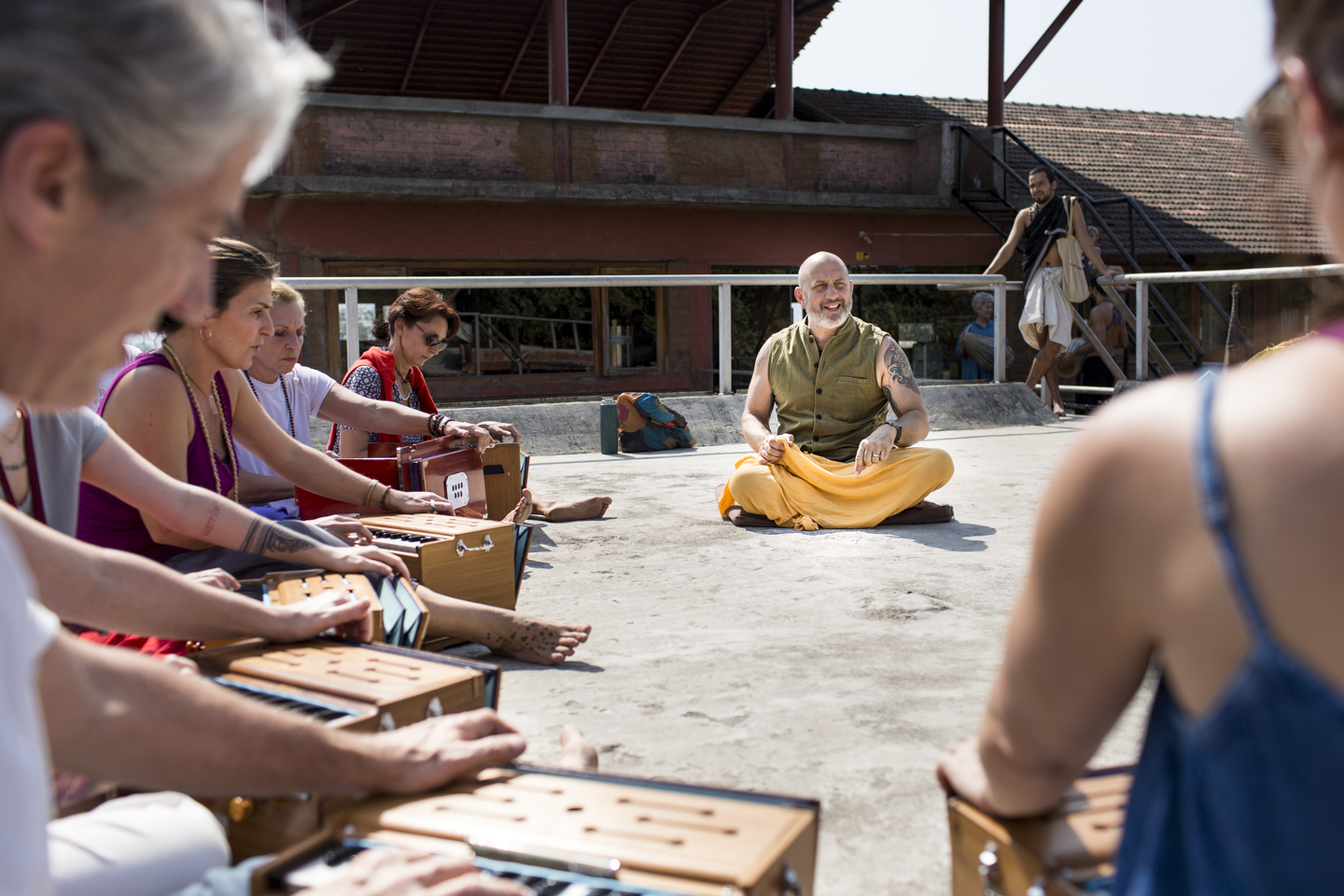 Facilities & Tuition
We will stay at the award-winning Govardhan Eco Village, a 70-acre sustainable farming community and retreat center on the foothills of the Sahyadhri Mountains, 108km north of Mumbai, created and directed by the monk disciples of Radhanath Swami.
When you visit GEV, you will experience a community that is a successful fusion between ancient Vedic wisdom and modern science.
The focus at GEV is learning how to live in harmony with the environment, developing a 'spiritual ecology' that can bring about tangible, positive changes within ourselves – and how we interact with the planet.
The GEV community is comprised of monks (in the Krishna Bhakti tradition) and residents who have created a sustainable center to host yoga and wellness retreats as well as seminars. This cutting-edge, environmentally savvy village implements green technologies like permaculture farming, water harvesting, cob buildings, rammed earth buildings, gray water treatment, solar power and bio-fuel energy systems. Ours hosts provide all the accommodations, beddings and meals prepared with vegan and gluten free options -- and cooked with love.
Tuition Investment
The investment for this course is $3,500 USD* with a $500 non-refundable down payment to hold your spot if received by May 31.
Tuition is $3,750 USD if received by December 30.
*Early discount ends May 31. To qualify, full payment must be received before the early discount cutoff date.
Payment deadline is December 30, 2019.
Tuition includes:
- Bus ride to Eco Village from the The LaLiT Mumbai hotel (students must arrive on exact day, otherwise a taxi can be arranged for approx. $75 USD)
- Accommodations at Govardhan Eco Village, in dorm-style single private rooms and shared cottages; simple, natural, green accommodations
- Supersoul Yoga 300-hour module study guide/note book
- Lap pool on Eco Village grounds
- AC bus back to Mumbai the day of the flower festival*
- WiFi in dorm areas
- Supersoul Certification (Yoga Alliance 100-hr)
Does NOT include
- Cost of musical instruments ($350 for harmonium, $75 for clay mrdanga drum, $10 for kartals)
- Spa treatments; an Ayurvedic spa is on the premises with services for an additional cost
- Laundry services
- Your flight r/t to Mumbai (BOM)
- Books (list provided upon registration)
- Hotel in Mumbai the night of the 25th after the flower festival*

*The Flower Festival is an incredible yearly festival taking place at the Mumbai Radha Gopinath temple. A bus will be provided to Mumbai the day of the flower festival but students are responsible for their car to the airport (which can be booked through Uber or our local aids).
Behavior During the Training
We treat this training in alignment with traditional ashram / pilgrimage standards while also remaining respectful of the culture and the local village lifestyle in rural India. For the 3 weeks we ask the students to abstain from meat, fish or eggs, intoxicants or smoking, and sexual promiscuity.
We also ask people refrain from gossip, and reckless criticism and fault-finding.
All credit card payments subject to 3.5% fee
Or pay by check (no fee). Checks should be made out to Supersoul and mailed to:
Alexandra Moga
65 South 11th St, 5H
Brooklyn, NY 11249
Questions? Email Alexandra at ytt@supersoulcollective.com
Refund Policy
Deposits are only refunded if your application is not accepted. Otherwise, deposit/application fee is non-refundable.
In cases where a student has paid tuition and cannot attend, full tuition minus your deposit/application fee is refundable up to 1 month prior to the start of the training.
75 % of tuition minus your deposit/application fee is refundable in the final month prior to the start of the training.
Once the training starts, tuition is non-refundable.